Food and Wine Month
Fill up your shopping carts with cash with these great slots on Food and Wine Month.

Place your order for cash playing Wok and Roll Slots.
This 5 reels 25 paylines Chinese Restaurant themed video slots game really delivers the fun, features and entertainment right to your computer. This game comes ready with all the fixings for playing and features like free spins, multipliers, bonus game and a random progressive jackpot. Enjoy your meal with an excellent presentation, robust colors, animations and delectable graphic designs perfectly fit for a Chinese restaurant. This game has everything in your order including symbol illustrations that will have you reaching for the soy sauce with such icons as a Chinese Chef, Chinese Restaurant, Chinese Girl, Fortune Cookies, Knife, Soup, Fish, Salad, Noodle, Wok and Roll Logo, Chinese Broccoli, an Extra Wild and an Egg Roll. The Chinese Chef is the wild symbol and The Wok and Roll Logo is the scatter symbol. You can stir up $25,000 with the scatter symbol and multipliers if you're betting the maximum $125. Make sure you place a big order when you play the Wok and Roll Slots Bonus Game as here you can win an amazing $250,000 if you hit 5 Chinese Chefs on the reels with the help of multipliers.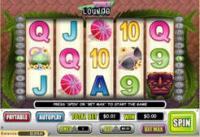 Relax and pour yourself into Tiki Lounge Slots.
This is just what you need, a tropical lounge bar where you can order up lots of cash on this 5 reels 25 paylines video slots game from Vegas Technologies. Pull up a chair and sit right down, you're going to love the relaxing atmosphere and wonderful sounds, graphics and symbol illustrations; including a Barman, Pink Glasses, Coco Cocktail, Cocktail Umbrella, Charming Girl, Wooden Mask and additional icons including an Ace, King, Queen, Jack, Ten and Nine. The Charming Girl is the wild symbol and the Wooden Mask is the scatter symbol. Keep your eyes on the Wooden Mask symbol as that icon can put $50,000 into your glass. You can also order more from the jackpots starting at $10,000, $25,000 and $50,000 if you get 5 Barmen. Before you leave make sure you check out the Tiki Lounge Slots Bonus game where you can win a magnificent $100,000 if you get 2 Charming Girls when the top jackpot is doubled during this bonus round.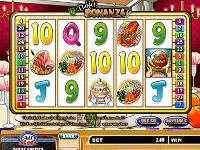 Make your first trip up to the Buffet Bonanza Slots.
Get ready to dip your spoon into this tasty 5 reels 25 paylines video slots game from Microgaming that will have you coming back for lots more. Tantalize your slots playing taste buds for a game with loads of features to fill your plate, like free spins, multipliers, jackpots, gamble feature and bonus game. Fully animated and ready to play this game is a full course meal for your senses filled with vivid graphics, entertaining music, colorful illustrations and symbols that will have your mouth watering for cash. The symbols are designed in good taste with such icons as a Roast, Lobster, Cake, Vegetables, Buffet, Diner, Ace, King, Queen, Jack, Ten and a Nine. The Diner is the wild symbol and the Buffet is the scatter symbol. The Buffet symbol will be your first appetizer as that can multiply your bets by 2, 5, 20 or 200 times, which will just get you started with $20,000 if you're playing the maximum bet of $100. Then head on over to the jackpot table where you can acquire the taste to win $4,000 for 5 Cakes or for 4 Roast, then really dig in with winning $12,000 for 5 Lobsters. Once you've done that, you can fill up all your plates with $24,000 for 5 Roasts. Soon as you're ready for the main course grab another plate and walk on over to the Bonanza Buffet Slots Bonus game where if you get three or more Buffet icons on the reels and you collect 10 free spins. The prizes are doubled during the bonus round and if you hit 5 Roasts symbols you can fill your life with a tasty $48,000. Stick around for desert and play the Gamble Feature where you get to collect even more prizes.
Now you can sit down, enjoy a good meal, wine and clean up with lots of cash playing all these great slots on Food and Wine Month.