Seasonal Holiday Slots
Remember the old saying: There's no place like home for the holidays? This is true enough, and to heighten your holiday spirit you can enjoy playing Holiday Slots from the comfort of your own home. This year we've seen quite a number of seasonal holiday slots emerge and while we have listed Holiday Feast Slots, Winter Wonderland Slots, and Independence Day Slots as our recommended slots; we would like to introduce you to two more seasonal holiday slots. They are Cupid's Arrow Slots and Black Magic Slots.
Cupid's Arrow Slots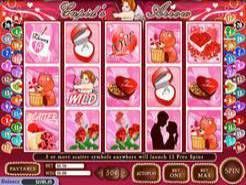 Perfect for the Valentine Day holiday, Cupid's Arrow is a fabulous slot game to add to our seasonal holiday slots favorites. It is a 5-reel, 20-payline bonus video slot game with the greatest animations we've ever seen. With a jackpot of 10,000 coins, you will add this to your favorite holiday slot list as soon as you begin play. There are some special surprises featured in this game and it has a myriad of bonus features, too. Cupid is the wild symbol, and the Gift Box is the scatter symbol. You can 15 free spins when 3 or more gift box symbols appear on winning paylines. All winnings are doubled and if you happen to get three gift box symbols during the free spins round, another 15 free spins will be awarded to you. To trigger the second bonus round, you need to get to hearts on reels 2 and 4. You will then be taken to a second screen where pyramids of gift boxes await you. You will be asked to choose a box starting from the bottom tier, and move your way up. Each box contains a dollar value. You will continue to select a box in each tier until you get a broken heart; alas, that is when the bonus round comes to an end. This is such an exciting game that we urge you to join Lincoln Casino and play this seasonal holiday slot favorite.
Black Magic Slots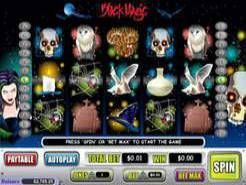 That Old Black Magic will have you in its spell when you play Black Magic Slots for Halloween! Considered another seasonal holiday slots that was part of our online casino's tournaments last year, Black Magic Slots is a compilation of witches, full moon, snakes, skulls, and things that go bump in the night. A 5-reel, 25-payline slot game with a jackpot of 6000 coins, you can scare yourself silly playing this holiday favorite. With the witch as the wild symbol and the full moon as the scatter symbol, you can trigger the bonus round by getting 3 or more full moon symbols. During the bonus round, you will play the pick a box game. Watch out for that witch, however, her howling scream substitutes for all symbols except the scatter symbol. But, she does pay quite a handsome sum when she appears on the reels. Play Black Magic Slots at Lincoln Casino ! It's a screaming riot!