Boomer Bonus Days
They've earned it, so let's have some fun playing all these great slots on Boomer Bonus Days . Retire wealthy and play Baby Boomers: Cash Cruise Slots.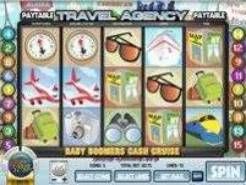 All you'll have to worry about is heading on down to the travel agent and making your travel plans on this 5 reels 15 paylines i-slots video game from Rival Powered. Enjoy the intro video then get ready for a permanent vacation and you're going to need it when plan your extended traveling vacation at the Travel Agency to Greek Islands, the Caribbean and Alaska. This game has suit cases packed full of multipliers, free spins and bonus games. One of the most interactive and entertaining slots machines out there, this game really takes you on a journey of a lifetime. Loaded with color and gorgeous illustrations you'll be captivated by all the sounds, graphics and interactive bonus games that are a pleasure to play. Once you're at the Travel Agent as part of your slots tour you get to play with such icons as a Train, Cruise Ship, Bus, Suitcases, Camera, Passport, Airplane, Sunglasses, Compass, Globe, Map, and Binoculars. The Bus is the wild symbol and the Cruise Ship is the scatter symbol. Now prepare for the Destination Wheel Bonus Round. This is a lot of fun and where the wheel stops is where you'll be going. Here's where you get to win a Greek Cruise, Caribbean Cruise or an Alaskan Cruise. There are lots of layers to this game so prepare for a nice long cruise. Each destination has its own unique prizes and interactive game to keep it interesting. On the Caribbean Carnival Cruise you get to play the Skeet Shooting Bonus Round, collect the prizes; then play the Shuffleboard Bonus Round and get even more prizes. Make sure you win the $15,000 before the ship pulls into port and you'll be floating in cash. Life is just grand when you play Mid-Life Crisis Slots.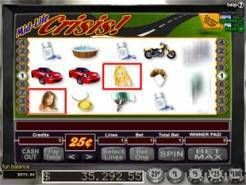 Just what everyone needs, a mid life crisis so you have an excuse to acquire everything you've always wanted and you will on this 5 reels 9 playlines video slots game from Real Time Gaming . This game is perfect for anyone that knows someone having a mid life crisis and comes complete with all the fixings. Indulge yourself into this game and enjoy all the features including lots of bonus games, jackpots and a random progressive jackpot. Full of amusing and entertaining symbols this game shows no shame when including everything you'd expect in a mid life crisis with such icons as an Older Balding Man, Motor Bike, Cash, Gold Medallion Necklace, Wig, Blond, Brunette, Red-haired Woman, Parachute, Viagra Pills, Sports Car, Yacht, and a Jacuzzi. You'll find lots of scatter symbols including a Balding Man, Wig, Blond, Brunette, Red-haired Woman, and the Gold Medallion. But it's the bonus games that will really put a smile on your face and prizes in your pockets. Take a tour of the Mid-Life Scatter bonus where you can win 350 credits, or live the dream of every older man and play Pick Your Poison Bonus Round and get a Blond, Brunette, and Red-haired woman on the reels. Before you leave this mid life crises behind make sure you load up on the $100,000 random progressive jackpot and you'll be saying "Crisis, what crisis?" Sail into the sunset with Captain Cash Slots.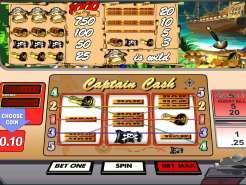 Get on board and enjoy a great cruise along with your Baby Boomer captain on this classic 3 reels 5 paylines video slots game from Betsoft . A boat load of fun will take you to your cabin full of jackpots and cash. Take a spin on this simple slots game with so much to offer. The captain on this yacht is having a great old time with a drink in one hand and cash in another. While you're on your journey you get to spend time playing with along with all the brilliantly illustrated symbols of Pirate Scroll, Skull 'n Cross Bone Flag, Treasure Chest and more. You'll be one day closer to retirement when you win big playing all these great slots on Boomer Bonus Days.