Online Slot Games with Native Americans Theme
Many of us who love slot games become instantly attracted to theme-based games for many reasons. Perhaps it's the graphics reflecting the theme, the bonus features, and the multi-reel, multi-line features, or because it is a theme-based slot that reminds us of a special time in our lives. Among the many theme-based slots, there are four online slot games with Native Americans theme that are especially entertaining.
Fire Hawk Slots
One of the newest releases from Wager Gaming, Fire Hawk Slots has some of the most beautifully designed graphics with animations inspiring the theme behind it. Subtle in tone, yet powerful in execution, Fire Hawk Slots is a 5-reel, 20-payline bonus video slot with a jackpot of 6000 coins. Bonus features include wilds, scatters, and a free spins round where you can earn up to 20 free spins.
Rain Dance Slots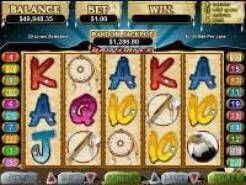 Rain Dance Slots is a great example of the history of Native Americans and its symbols are quite stunning. In addition to the cards Ace through nine, there is a Native American, Coyote, Drum, Teepee, Tomahawk, American Eagle, and Wolf. A 5-reel, 20-payline bonus progressive video slot with a jackpot of 5000 coins, you will become enrapt in this games' bonus features which includes wilds, wild multipliers, scatters, and a free spins round in which you can earn up to 100 free spins! You won't have to do your own rain dance to achieve high payouts playing this game at Silver Oak Casino.
Totem Quest Slots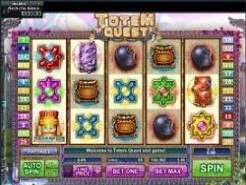 Totem Quest Slots is a brand new 5-reel, 25-payline, bonus video slot game with rich and high-quality graphics. The rotating tiles and icons are superb as are the bonus features. The jackpot is 2000 coins, but the one feature that is quite exciting are the 3 bonus games in which you can win even more lucrative payouts. Catch the Gem bonus game requires you to move the money back with the cursor to catch the 10 falling gems to win high payouts. And that's just one of three bonus games you can play in this game. The other two bonus games are Flying Tiles in which you have to pop 10 flying items with the cursor to score wins, and Trip through Worlds where you have to arrange 4 tiles of the same color to solve the puzzle. If you win the third round of this game, you will be taken to another world where more points can be earned adding to your total chip count. There are also several scatters, and a free spins round where you can earn up to 15 free spins. This is an extraordinary slot game and we invite you to play it today at 32Red Casino.
Totem Treasure Slots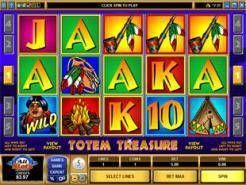 Totem Treasure Slots epitomizes the Native American culture with its deep hues and innovative designs including: Squaw, Eagle, Tee Pee, Fire, Dream Catcher, and Pipe. The colors are rich and bold, and this 5-reel, 5-payline video slot has a jackpot of 12,000 coins. Although there is only one wild symbol, it will nonetheless provide hours of enjoyment, particularly if you manage to get 5 eagles earning you the jackpot. You can play Totem Treasure at Betway Casino.