SlotsVille Casino
Load up the car this summer and head out on the highway to a "US Friendly" destination at Slotsville Casino where you'll have an online casino experience to remember. Go fill up the gas tank soon as you sign up and you get to collect an incredible $4,000 Welcome Bonus on your first four deposits. Soon as you drive up to this casino you're going to love the exceptional Flash intro artwork and amazing retro themed graphic design that will take you back to the post war era. This casino really takes you away to that retro era with a great visual presentation on the home page that has all the reminiscent design elements, look and feel of the time when neon was big and so where the cars. Just click on the Diner, Hotel, Cinema, Slots Club, Museum and more. Each section is presented with animated, bold graphics, bright designs, characters and classic cartoon illustrations. The slots machines are the highlights that represent each setting in their own unique way. When you click on each graphic sign accordingly, the entire web site transforms and opens to that section presenting slots machines that fit for that theme. The site has a nice flow to it and is rather captivating to watch. It really is an interactive flash show into itself that is sure to entertain. It's time for you to take a ride on "Route 66" and drive on over to one of the hottest casinos online, Slotsville, your next stop to play sots. Then take a great spin with the fantastic Real Time Gaming software platform that you know and love so much with so many games to choose from. It's nice to know this site is owned and operated by the reputable RushPod Investments Company.
Wake up and play Roberta's Castle Slots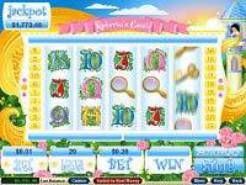 Based on the classic fairy tale of Sleeping Beauty this beautiful 5 reels 20 paylines video slots game is a wonderful way to win lots of cash. Your prince is just a few spins away as you enjoy all the features fit for a princess like free spins, wild multipliers, bonus game, jackpots and a random progressive jackpot. Just like a royal wedding, your prince welcomes you to a world filled with beautiful vibrant pastel colors and all images are delicately designed just like a real fairy tale. The cartoon characters in this game are all illustrated to perfection as the symbols include the Prince, Roberta, Cat, Mirror, Scissors, Hair Brush, Ace, King, Queen, Jack, Ten, and a Nine. The Prince is the wild symbol and the Roberta is the scatter symbol. There are also lots of coin sizes for you to choose from starting at $0.01, $0.02, $0.05, $0.1, $0.25, $0.5, $1, and $5.00 with a maximum bet of $100. Now that you've entered the castle take a stroll on over to the jackpots where real dreams are waiting for you when you win $10,000 for 5 Hair Brushes or for 5 Scissors. Life can be a fairy tale when you take home the $20,000 for 4 Hair Brushes with 1 Prince or for 4 Scissors with 1 Prince. You will own the castle when you win $75,000 for 5 Princes. Then it's time to enter the Roberta's Castle Slots Bonus Game. Soon as you get in you will get 15 free spins to get you started. Remember, all the prizes are tripled in the bonus round so you can win an amazing $225,000 for 5 Princes and this can be re triggered. Your fairy tale isn't over yet, as you still can win the random progressive jackpot and live happily ever after.      
Find the treasures of long ago on Incan Goddess Slots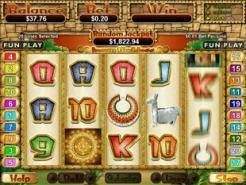 The Incan civilization collected beautiful treasures as part of their culture and now it can be part of yours when you play this 5 reels 20 paylines video slots game. Play this game and dig up lost treasures that have been hidden away for years and years. Collect up all the features like free spins, multipliers, jackpots, gamble feature and a random progressive jackpot. The Incas were a very intelligent society and knew many secrets of the universe. You can crack the code when you play along to these magically designed symbol illustrations depicting actual Inca items all glittering of gold with artifacts like a Goddess, Temple, Jug, Jewelry, Golden Sun, Carving, Ace, King, Queen, Jack, Ten and a Nine. The Goddess is the wild symbol and the Temple is the scatter symbol. Discover all the jackpots and dig up $10,000 for 4 Goddesses or $12,500 for 5 golden Suns. But if you want to enjoy the true beauty of Inca treasures then win the $25,000 for 5 Goddesses. Now it's time to enter the Inca Goddess Slots bonus game when you get three or more scatter symbols and start your prizes with 12 free spins. All prizes are tripled or quadrupled and you can walk away with a fabulous $100,000. Yet the biggest Incan treasure will be uncovered when you win the random progressive jackpot.
SlotsVille Casino Tournaments
Game
Wheel of Chance Quick Spin
Slotastic Weekly USD500 Slot Showdown
Weekly R500 Freeroll Action
Get SlotsVille Casino Bonuses
Best SlotsVille Casino Slots