Clown Month
January is "Clown Month" and soon you'll be laughing all the way to the bank playing these great slots machines.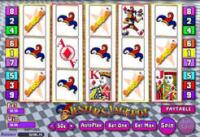 Get crazy rich and laugh out loud playing Jester's Jackpot Slots . They kept the Medieval Kings entertained and then on to playing cards and now they have a 5 reel 9 paylines video slots game. This game has all the designs of playing cards to keep you in the gaming mood. You will spin along to playing card royalty with colorful and authentic illustrations of the Jester, Jester's Hat, Playing Card Back, an Ace, a King, a Queen, and Jack of Diamonds. There are a nice variety of coin sizes for any level of play including: $0.01, $0.05, $0.1, $0.25, $0.5, $1, $5, and a $10 with a maximum bet of $90. There's also a jackpot of 2,500 coins so you can take home lots of cash. Overall, this game has a nice feel to it and can provide you with lots of winning opportunities and a guaranteed good time spinning along with the Court Jesters.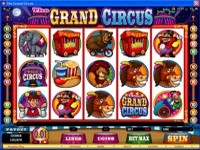 Welcome to the Grand Circus Slots where winning really is the greatest show on earth. Let the show and the winnings begin when you play this Grand Circus themed 5 reels, 20 paylines video slots game from Microgaming. It really is a lot of fun and full of entertainment and slots value. The band music and circus sounds played during the game makes you feel like you're under the Big Top now. The game is designed full of bright colors with illustrated and animated Circus characters that will bring a smile to your face with these adorable symbols including a Grand Circus, Ring Master, Circus, a Clown in a Cannon, an Elephant, Bear on Bike, Lion, Donkey, Juggler, Clown Car, Cage, and of course Refreshments. Keep the Grand Circus, Ring Master and Circus symbols in your view, as they are the scatter symbols. It's the greatest show on earth when you can win 1,000 coins if you land five Ringmaster symbols. The Grand Circus scatter symbol can get bring you lots of multipliers up to 100x if you get a few of them on one payline. You'll also get a chuckle when you play the "Pick a Bear" bonus game where you'll be taken to a new screen and you get to shoot your clowns at the bears. You basically make three choices and then each of the clowns' flies in the air and you get to collect your prizes.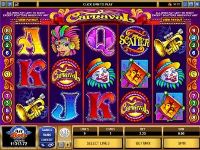 Take a trip to Rio de Janeiro and play Carnaval Slots by Microgaming. Carnaval is world renowned for the fabulous parades, events, clowns, outlandish costumes and the great parties all night long. Enjoy every minute of this excellent 5 reel 9 paylines video game. You'll think you're in Brazil with all the fantastic colors- authentic artistic designs and the illustrations; sounds of crowds and music (bongos included) that really do capture the energy of Carnaval. Play along to brilliantly painted symbols such as a Carnaval Logo, a Lady, Clown, Banner, Trumpet, Wild, Scatter, Ace, King, Queen, Jack and a Ten all there to keep you winning and entertained at the same time. The Wild graphic is the wild symbol and the Scatter graphic is the scatter symbol. You'll be dancing the Samba if you win the jackpots. There are three jackpots starting at $3,000, $4,000 and a top jackpot of $25,000. There are also lots of betting options to enjoy starting at coin sizes of $0.25, $0.5, $1, $2, $5.00 and a maximum bet of $45. You find tons of attractive rewards on this game and you'll find the entertainment really amusing. So go ahead laugh a little and win a lot playing all these great slots during Clown Month.