Dolphin Slots
The intelligence of Dolphins is uncontested, and it may surprise you to learn they have played a key role in human culture for centuries. Common in Greek mythology, many coins bearing the picture of a deity riding on the back of a dolphin have been found. In fact, dolphins were considered a good omen, especially during ancient times when they appeared alongside the bow of a ship. Dolphins have also been utilized to assist individuals suffering from depression, and have had a great influence among handicapped children. Yes, Dolphins can relate on a level so close to our own that they are revered as the most intelligent mammals on earth. By way of introduction, then, we are most happy to showcase some of the more popular Dolphin Slots available at our online casinos.
Dolphin King Slots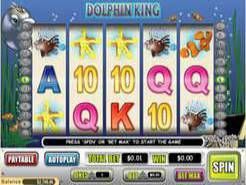 A 5-reel, 25-payline bonus video slot, Dolphin King has a jackpot of 5000 coins. With an undersea theme, you will find symbols reflecting all aspects of this mysterious world and, at the same time, enjoy the tranquility this world emanates. Dolphin King has a coin size ranging from 1¢ to $10, and the maximum bet is $250. The bonus features include wilds, scatters, and a free spins bonus round in which you can win 20 free spins.
Dolphin Reef Slots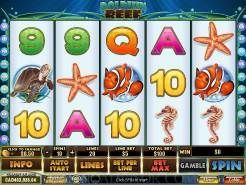 Powered by Party Gaming, Dolphin Reef Slots is presented as a 5-reel, 20-payline bonus video slot with a jackpot of 5000 coins. The coin size ranges from 1¢ to $50, with a high stakes maximum bet of $1000 per spin. Featuring wild and scatter symbols, Dolphin Reef also incorporates the nudge and hold buttons, allowing for the bonus re-spin feature to activate. If you've never been nudged by a Dolphin before, you can surely find your way to bumping a reel to form a winning combination.
Dolphin Tale Slots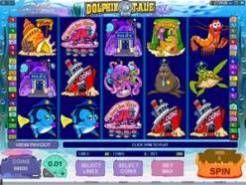 One of the most colorful of all Dolphin Slots is Dolphin Tale Slots available at Microgaming casinos. This is a 5-reel, 40-payline bonus video slot game with a jackpot of 3000 coins. The coin size will fit well within your budget as it begins with 1¢ and goes as high as 25¢ per spin. The maximum bet is $50. Using the undersea theme once again, Dolphin Tale Slots features a wild symbol, scatter symbol, and up to 25 free spins. All winnings during the free spins bonus round are multiplied by up to 20x giving you a chance to really win the day. There is also a retrigger feature, meaning that if during the free spins round you happen to get the Spy Clam symbols again, you can win additional free spins.