Chinese New Year
This year will bring you lots of luck and treasures when you play these great video slots to celebrate the Chinese New Year . All US players are welcome to play and enjoy all these exciting Chinese themed slots that will bring happiness to your future very soon.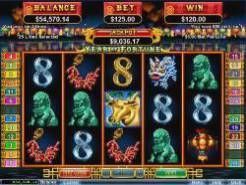 Any time is great to get rich and this could just be the year playing and winning with Year Of Fortune slots . There's more to just dragons and temples on this classic 5 reel 25 paylines slots game that will really put you in a Chinese New Year state of mind. This game has a complete parade of features including free spins, multipliers, jackpots, bonus game and a progressive jackpot. It's the year of the OX in this game and this one really delivers the realistic graphics and authentically illustrated symbols of a Golden Ox, 8, God of Wealth, Lantern, Petards, Coin, Dragon, Temple, Year of Ox Logo and Mask. The Golden Ox is the wild symbol and the scatter symbol is the Year of the Ox logo. You can plan your playing strategy with this game and all the coin sizes it offer starting at $0.01, $0.02, $0.03, $0.04, $0.05, $0.06, $0.07, $0.08, $0.09, $0.1, $0.25, $0.5, $1, $2.5, $5.00. The maximum bet is $125. Grab your fortune cookies and see if a jackpot is in your future starting first at $8, 880 a second jackpot for $44,440, and a third $88,880 for four Temples and one Golden Ox. You will want to make sure you get to the Year of Fortune Slot Bonus Game where the real cash is waiting. Just hit three scatters and you get 8 free spins. The each time you hit the Golden Ox icon your prize doubles. You have to aim to get 3 Golden Ox and 2 Temples as you can win an unbelievable $355,520!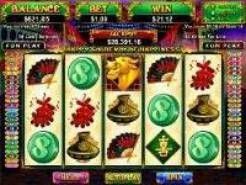 You're going to be the one gleaming with joy when you win big playing Happy Golden Ox of Happiness Slots . It's all about the lucky number 8 so dive right into the beautiful Chinese art and culture with this 5 reels 50 paylines video slots game from Real Time Gaming. Full of color, bright and vibrant, you're going to join the money making parade with lots of features including multipliers, free spins, re-spins, jackpots, bonus game and a Golden Ox random progressive jackpot. All the symbols on this game really depict the Chinese artistic styles that are full of color as you spin away to Happy Ox, Year of the Ox, Fan, Petards, Mask, Vase, Pink Hieroglyph, Orange Hieroglyph, Green Hieroglyph, Coins, Lantern, and an 8. The Happy Ox is the wild symbol and The Year of the Ox logo is the scatter symbol. The scatter symbol is great for picking up the multipliers. The Year of the Ox will also get you free spins that are tripled and you can win up to $5,332.80 if you get 5 Happy Ox. This game gives you lots of chances to win the random progressive jackpot with getting 5 Happy Ox in the main game, and during the free and re-spins features too.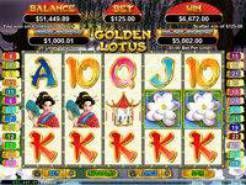 Step inside a Chinese Garden so fragrant you can smell the money you're going to make playing Golden Lotus Slots . Welcome to a beautiful Chinese garden atmosphere filled with flowers and culture on this 5 reels 25 paylines video slots game from Real Time Gaming. You'll enjoy being taken away to China experiencing all the good luck it brings. Good luck and prosperity is in your future with free spins, multipliers, jackpots, two bonus games and a random progressive jackpot. Experience a garden full of colorful and exotically illustrated symbols including a Paper Lantern, Logo, Chinese Vase, Golden Lotus, White Lotus, Chinese Girl, Dragon, Ace, King, Queen, Ten and Nine. The Golden Lotus is the wild symbol and the White Lotus is the scatter symbol. Keep your eyes on the Lotus as that little flower can bring you lots of luck and $222,200 if you get 5 Golden Lotus. Enjoy the Chinese New Year with every spin and you'll see how lucky you can get if you play all these great video slots games and win