Easter Slots and Bonuses
Hop on over to some really cool slots and win big on Easter !
Go have a great Easter and make sure you fill your basket with lots of golden eggs when you play all these great slots: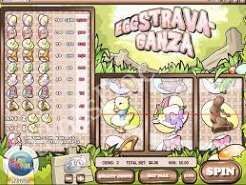 It's a holiday to remember at Eggstravaganza Slots.
Bring your Easter basket, you're going to need it for all the cash when you win playing this animated 3 reels 1 payline video slots game from Rival Powered. Full of soft colors, bongo music and cute animal characters this game is eggs-actly what you need with all free spins, jackpots and bonus game. For a 3 reel slots, this game has it all. It comes in both download and no download. But it's the beautiful design, graphics, colors and illustrations that make this game so wonderful and happy. You'll want to enjoy some chocolate Easter eggs soon when you see all the Easter themed characters for symbols including an Easter Egg, Rabbit, Duck, Butterfly, Flower, Hat, Basket, and a Chocolate Hare. There are also a nice variety of coin sizes so you can pick from $0.01, $0.05, $0.1, $0.25, $0.5, $1, $2, and $5.00. Things really start to pick up around this game when you take a look at the jackpots. This Easter could be a real special one when you win $3,750 for 3 Easter Eggs if you bet 1 coin. Fill up your basket with $7,500 for 3 Easter Eggs if you bet 2 coins. Take home all the eggs and rabbits when you win $12,500 for 3 Easter Eggs if you bet 3 coins. Jump on over to the Eggstravaganza Slot Bonus Game where you'll need a wheelbarrow if you win. Keep your eyes on the Rabbits because if you get 1 or 2 Rabbits on the reels you pick up 5 or 10 Free Spins and then that's tripled. Just bet 3 coins load up and take away the $37,500 for 3 Easter Eggs.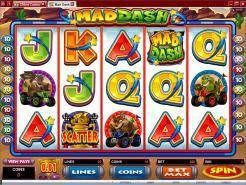 It's time to speed things up and play Mad Dash Slots.
Hold on, you're in for the desert-racing ride of your life when you play this 5 reels 20 paylines video slots game from Microgaming. These cartoon animal characters sure know how to hurry up so you can win with all the features including free spins, multipliers, and jackpots. Soon as you get in the driver's seat on this game prepare for lots of color, cool upbeat music that rocks, and great symbol illustration that really want to go! The racecar drivers on your team will include a Turtle, a Fox, Rabbit, Mad Dash Logo and Ace, King, Queen and a Jack. The Mad Dash Logo is the wild symbol and The Trophy is the scatter symbol. Shift gears and drive on over to the jackpots, where you can make a pit stop and pick up $2,500 for 5 Rabbits. Keep going and pick up another $5,000 for 5 Turtles. You'll know when you're going fast and ready to race when you win $10,000 for 5 Mad Dash Logos. That Trophy symbol can shine brightly for you as it will multiply your total bet by 2, 5, 20 or 200 times and you can win $20,000. Race on over to the Mad Dash Slot Bonus Game where this interactive racing slots games takes it on to a whole new level racing in the desert.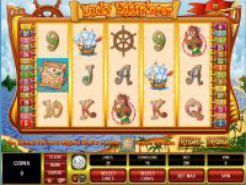 Discover your treasures when you play Lucky Eggsplorer Slots.
Set sail for a journey that knows no boundaries on this 5 reels 30 paylines video sea worthy slots game from Microgaming. Explore new worlds and collect treasures from afar when you start with free spins, multipliers, and a gamble feature. Once you step foot on this ship you'll see lots of great graphics, illustrations and nautical theme that will take you away with such symbols as Chook, Map, Chief of Natives, Princess, Endeavour, Wheel, Ace, King, Queen, Jack, Ten and an Nine. The Chook is the wild symbol and the Map is the scatter symbol. Set your compass for the Lucky Eggsplorer Slot Bonus Game where, when prizes are tripled you get to sail away with $45,000! Then its on to the gamble feature and complete your journey.

Enjoy a Basket Full of Lucrative Easter Bonuses

It won't take long anymore before the Easter festivities are being celebrated once again, and in honor of this joyful spring holiday, many online casinos offer exciting, Easter themed bonuses that members of their gambling platforms can enjoy. One of the Easter themed bonuses that players can benefit from is the Easter Hunt 2019 promotion. Once a certain wagering threshold is being reached, players will enter the Easter Egg Hunt. This bonus opportunity allows them to win prizes that are as high as 5000 (EUR / USD/ GBP). The bonus period started at March 13th 2019, and it will end on April 3rd, 2019 at 12:00 UTC. Another fun Easter themed bonus that can be enjoyed by depositing players is the Eggs-travaganza daily bonus run that comes with a lot of free spins. This bonus started at 19th March 2019, and it ends on the first of April 2019. Players who want to benefit from this bonus have to locate and crack open a hidden egg so that their free spins reward will be revealed. This bonus can be enjoyed daily until the first of April.



$60 Free Chip
---
Play at:
BingoBilly Casino
Find True Glory with Special Easter Tournaments

Instead of hunting for eggs and cash prizes during the Easter holiday, you also get a chance to hunt for glory in various thrilling Easter tournaments that are being organized by online casinos. One of the matches that players can participate in is the Easter Cat Tournament. This tournament provides the winner with a great $1500 reward. It is a mobile and rebuy friendly tournament that players can compete in until the 24th of April 2019, and it will start on April the 12th 2019. Additionally, gamblers and card game enthusiasts can also enjoy Easter Unique Poker tournaments from March the 24th 2019 until March the 28th 2019.