Top 3 Beach Slots
Island Gold Slots are noted for their tropical theme, but there are a myriad of other slots that have a similar running theme including sand, sun, beach, and all the wonderful features associated with vacationing on a tropical island. Golden Slots would like to review some of these pleasure-seeking slots for you.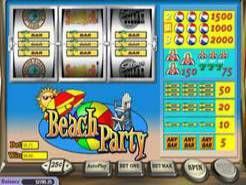 Among the island gold themed-slots, we would like to introduce to you is Beach Party Slots available at Liberty Slots Casino. A perfect match, don't you think? Beach Party Slot is a 3-reel, 3-payline traditional slot with a jackpot of 2000 coins. Although it doesn't have any bonus features, it is nonetheless a fun game to play as it is reminiscent of the slots played at land-based casinos. Four symbols, some of which are associated with 3-reel slots, appear on the reels. They include: Bars, 7s, beach balls, and the lifeguard. The bars have a tropical tree icon on them, adding to the ambience of the destination. The beach balls add a playful air to the game and if you get three of them on the payout line, you win 2000 coins! If you are experiencing winter doldrums, now is the time to join Liberty Slots Casino and feel the warm breeze of a hot summer day at your favorite tropical island.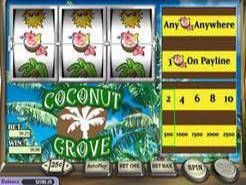 Our second pick is Coconut Grove Slots, another island gold slot with a tropical theme. This is the traditional 3-reel, 1-payline slot game also featured at Liberty Slots Casino. It has a jackpot of 2500 coins and unlike Beach Party; there are no bars, 7s, or cherries. The symbols in Coconut Grove Slots reflect pure island pleasure and include: Sun, pal trees, coconuts, and a Casino Logo. Get 3 coconut symbols on one active payline and you could win the jackpot. Imagine sitting in the comfort of your home sipping a Pina Colada. Although there are no bonus features in this game, you can still wile away the hours dreaming of your next tropical vacation playing Coconut Grove Slots at Liberty Slots Casino! Sounds enticing, doesn't it?
Our third pick is Tiki Lounge Slots . This island gold slot game is perfect for those of you who have been or are contemplating trip to Hawaii. This bonus video slot game has 5 reels and 25 paylines, with a jackpot of 5000 coins. It features the Girl as the wild symbol and the Mask as the scatter symbol. There is a free spins bonus round which you can access during regular play. All you need to get is the Girl symbol on reels 1 and 5 and you will win 20 free spins! All winnings are doubled as well. In addition, if the girl appears on reels 1 and 5 during the free spins round, you win an additional 20 free spins! Tiki Lounge Slots is available at Liberty Slots Casino. Whether you love the sun or the surf, all of these island gold slots are fun to play, and can transport you to the sandy beaches of the Caribbean or the black sand beaches of Hawaii. Either way, you are a winner! Join Liberty Slots Casino and play these island gold slots today !