Harry Houdini's Birthday
Turn your March into magic when these fabulous video slots suddenly appear, and you'll be celebrating with the greatest magician ever on Harry Houdini's Birthday.
Money Magic Slots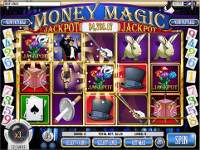 Your good luck will turn into cash when you wave your magic wand playing Money Magic Slots. Get ready for some magical surprises when you play this 5 reel 9 paylines video slots game from Rival Powered. This slots machine has a spectacular show ready to present where the trick is to cash in on all the features like free spins, multipliers, jackpots and a random progressive jackpot. All the symbol illustrations that appear on this magical slot show stage are full of color and really capture the excitement. The music is almost transient and adds a nice rhythm to the game. Let the show begin as you'll have everything you need with icons of Flowers, Lady Assistant, Magician, Magician's Hat, Rabbit, Magic Wand, Dove, Cigarette, Cards, Saw, Lady Assistant in Black, and a Dagger. The Flowers icon is the wild symbol and the Lady Assistant is the scatter symbol. A really good trick would be to get as many Flowers symbols as they can substitute for other symbols and multiply your bets and double your prizes. The scatter symbol can be magical if you get those and multiply your bets by 1, 3, 12 or 75 times. Fill your magic top cap with some jackpots starting at $200 for 5 Saws, $250 for 4 Flowers or for 5 Cigarettes symbols or a show stopping jackpot prize of $2,500 for 5 Flowers. For the final act close the show with winning the random progressive jackpot. You just have to keep watching it closely and make sure you're playing a minimum of 5 coins and you'll be coming back for an encore.
Black Magic Slots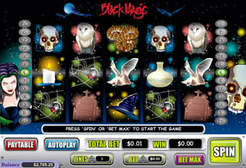 Mirror, mirror on the wall you're going to win the most of them all playing Black Magic Slots. Look into the crystal ball and you'll see the cash coming to you when you play this 5 reels 25 paylines video slots game from Vegas Technology software. Black is beautiful and there's lots of jackpots in this game that are truly magical. But it's the design and graphics in this game that really take you away to the world of winning. Enjoy the mysteriously unique and wonderfully illustrated symbols of a Magic Crystal, Death's Head, Old Owl, Sly Snake, Toxic Araneid, White Bird, Magic Candle, Magic Jug, Witche's Heat, and a Grave Plate. There are some additional important icons that include a Silver Moon and a Witch. The Witch is the wild symbol and the Silver Moon is the scatter symbol. Use your mind and take control of the jackpots starting at a mesmerizing $5,000 for 5 Death's Heads or make a spell and win $10,000 for 4 Witches or for 5 Magic Crystals, but if you want to stun them all take home $60,000 jackpot for 5 Witches. If you want to get into the Black Magic Slot Bonus Game bonus game look for the Silver Moons. Just get 3 or more of them glowing on your reels and you're in the bonus game. Then you get to pick from the 6 magic crystals and claim the prizes.
Magic Spell Slots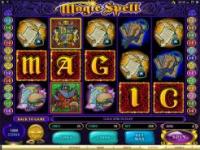 You got your spell on me baby and we're going to make a winner out of you, when you play Magic Spell Slots. Once this game starts spinning you'll be under a moneymaking spell with this 5 reels, 25 paylines video slots game from Microgaming. Visually, this game is artistically designed with illustrations all full of color and the sounds are magic to your ears. You won't mind being under this games spell with such amusing caricatures of Leo, Catrina and Baz, the strict teacher Master Tom, Backpack, Books, Catskills Academy, Chemistry Set, Lunch, Miss Quill, School Crest, Stationery, and the Letters M-A-G-I-C. Master Tom is the wild symbol and all the M-A-G-I-C letters are the scatter symbols, which gives you lots of chances to win. Take advantage of the Magic Spell Slot Bonus Game and the Secret Library bonus game and you will get ever more prizes. Make some magic and then make some money when you play all these great video slots games on Harry Houdini's Birthday.