Make Your Dreams Come True Day
Make your dream come true day" is an official day in January and we've got some slots that'll get you ready and rich.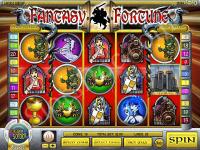 Fantasy and Dreams are what we all wish for. You can have them both playing Fantasy Fortune Slots.
Prepare for the myths and fairytales of the medieval times where living is all about knights and princesses in a dream like world. Step inside this fantasy themed 5 reel 20 paylines video slots game that comes with lots of treasures like free spins, multipliers and the bonus game. Everything in this dreamy world is illustrated to perfection with all the fantasy characters and iconic medieval symbols such as a Castle, White Knight, Princess, Unicorn, Goblin, Black Knight, Wizard, Dragon, Gold Crown, Sorceress, Gold Cup, and a Secret Chamber. The Dragon is the wild symbol and the Wizard is the scatter symbol. Just get three or more Secret Chambers and get to go to the bonus round. From there you just select the door you want and collect the prize behind the door.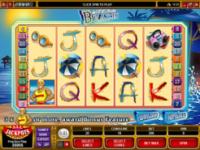 You won't have to work ever again after playing and winning at Life's a Beach Slots from Microgaming.
Ahhh…the life we all dream about, not having to work, playing and relaxing at the beach with all the beautiful people everyday. You'll get all that and more playing this 5 reel 20 paylines sun and fun at the beach themed slots game. Pull up the lounge chairs then take a dip in this ocean game of fun and sun. You get a beach full of features, jackpots, and bonus games. Just like the beach, this game is full of color and energy, you can almost feel the suns rays playing with all these beautiful symbols, like a hot Beach Babe, Handsome Lifeguard, Bar, Beach Umbrella, Boom Box, Goggles, Ace, King, Queen, Jack, Ten, and a Nine. The Beach Babe is the wild symbol and the Lifeguard is the scatter symbol. The real dream come true is to win lots of cash in this game on the amazing jackpots. If you're getting started at the beach, then that could get you a cool $5,000, warming up with $10,000 and then really get hot with $120,000! Just for a day at the beach. The Life's a Beach Slot Bonus game is a great part of this beach day. Soon as you get three or more Lifeguards, come on in. All you have to do is pick the umbrellas covering the Beach Babes and you collect your prizes. Get as many Beach Babes as you can and play away all day.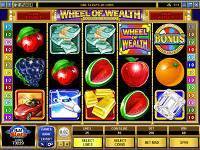 Dream a little dream and you can win big playing Wheel of Wealth Multiplayer Slots special edition.
When you reach your dreams winning on this 5 reel 25 paylines multiplayer video game slots from Microgaming, you can bring your new friends. This is a really friendly community slots machine that comes with lots of nice wild multipliers and two bonus games. A revolutionary way to bring together both players and fun with social gaming features really brings this game to a whole new level for online slots. Players are able to have an avatar, chat and share results as they play. The graphics are absolutely brilliant and full of colors, these symbol illustrations really capture what it would be like to be rich with a Wheel of Wealth, Lear Jet, Sports Car, Diamond, Gold Bars, Money, Watermelon, Orange, Lemon, Apple, Grapes, Cherries, Scatter Coin and a Bonus. The Wheel of Wealth is the wild symbol and the Scatter Coin is the scatter symbol. Spin and win some of these great jackpots starting at $3,750, or $5,000 on up to a wealthy $50,000. The two bonus games just keep the fun and prizes coming with the Reel Bonus Game and the Wheel of Wealth Bonus Game. If you like to make friends while you're getting rich, then this is your game.
Use your imagination and head on over to all these great slots and start the year off right, really making all your dreams come true on that special day.