Groundhog Day
There maybe another 6 weeks of winter but things are going to be heating up playing with these hot slots on Groundhog Day .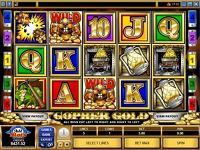 Since you'll be inside, may as well dig up some cash when you play Gopher Gold Slots from Microgaming. Those little critters can be really cute when they are bringing you gold on this 5 reels, 5 paylines video slots game that's sure to make you smile. Even the music is melodic and easy on the ears. But it's that hard working little Gopher that just wants to keep you happy with all the jackpots and prizes to be won. And this guy has all the equipment he needs to bring you the gold. You'll be amazed at how well this game is designed, full of bright gold colors and really well illustrated symbols of the Merry Gopher, Gopher Gold Symbol, Dynamite, a Hammer, a Little Torch and Small Cart. There's also an Ace, King, Queen, Jack and Ten. The Merry Gopher is the wild symbol and he can bring you lots of prizes and he comes in real handy as a substitute for all other symbols. Here's where you can win some real nice prizes. The Gopher has some jackpots that'll give you the Midas touch starting at a heavy $10,000 for 5 Hammer symbols and a second jackpot has a big bang prize worth $25,000 for 5 Dynamite symbols and Ground Hog Day huge jackpot of $60,000 for 5 Gopher Gold symbols. The strategy is to obviously go for these nice jackpots. You'll find a nice variety of coin sizes to choose from starting at $0.25, $0.50, $1.00, $2.00, and $5.00. There's a maximum bet of $25 if you really feel like joining the Gopher and going for the gold.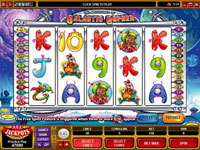 The Adventures of the Galactic Gopher Slots are going to take you away to a winning galaxy far, far away. Take a trip on a rocket ship many miles away on this 5 reels 30 paylines video slots game from Microgaming. It won't take long to figure out you're on the right ship to outer space when you see all the free spins, multipliers, jackpots and the gamble feature, all ready to go. Hop on board and enjoy all these wonderful alien creatures all illustrated to perfection including a Galactic Gopher, a Ship, Astro Ape, Deep Space Dog, Spaced Out Snake, Cosmic Chicken, Ace, King, Queen, Jack, Ten, and a Nine. The Galactic Gopher is the wild symbol and also can be substituted for other icons and the Ship is the scatter symbol. Keep your eyes on the Ships as they can bring you lots of multipliers starting at 1, 5, 15 or 100 times your total bet. If you bet the maximum $30 you can win $3,000. They can also bring you up to 10 free spins if you get 3 on the reels. It's fun to watch the animated Rocket blast off and reveal the prize. Make sure you try out the Gamble round as you sure can add to your galactic experience.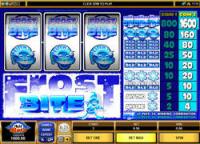 Winter is beautiful and cold but when you're playing Frost Bite Slots you'll be warming up to winning really fast. You can almost feel the cool breeze and smell the crisp clean air on this ice blue classic 3 reels 1 payline video slots game while you watch the snow come down outside. This game is cool to look at and can really heat up with prizes. Take a spin with these winter symbols and play along with Frost Bite, Frostie, Snowflake, 3 Bars, 2 Bars and 1 Bars. Frost Bite is the wild symbol and can substitute for other symbols. Spring will soon be in the air so get out there and enjoy the rest of winter but remember to win big on Groundhog Day with all these great slots.