Jazz Appreciation Month
Get into the winning groove and pick up the beat, you're playing some cool slots on Jazz Appreciation Month.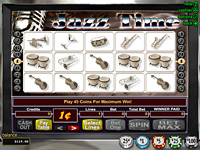 You'll be tapping to the music on Jazz Time Slots. Download this Real Time Gaming upbeat tempo slots machine with its 5 reels and 9 paylines, so you can play along to the music and win like crazy. Start spinning to the groove and you can feel the money coming when you see the full orchestra of features including lots of free spins and a cool bonus game that will make a musician out of you. Once you see this game you can hear the jazz music playing and you can start winning. This games all about the music and you won't have to be a musician to appreciate all the genuinely illustrated jazzy symbols of all the instruments you need to have a great time and play to win including a Bass, Drum, Drumstick, Guitar, Hi hat, Piano, Snare drum, Trumpet, Glass, Microphone, Saxophones, and a Trombone. You can pick any tempo you like to play with so many coin sizes starting at $0.01, $0.05, $0.25, $0.5, $1, and $5.00. If it strikes a chord with you, there's a maximum coin size you can play for $250. Time for you to kick off your best sounds and begin your music career at the jackpots starting at $15,000 for 5 Microphones if you bet 3 coins or go ahead and make an album with $20,000 for 5 Microphones if you bet 4 coins. But if you want to own your own record company start by winning $50,000 for 5 Microphones if you bet 5 coins. Soon it will be on to the next show and that will be the Jazz Time Slots Bonus game where you'll be playing in the lights. Take the stage with getting some Drumsticks, a Snare, and Hi-hat on the reels and play your biggest hit on the Big Money Scatter Bonus and win lots of prizes. For an encore you can play the Jazz Jam Bonus game where you get to pick the instruments and collect the awards.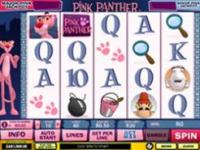 Enjoy a cartoon classic movie character at Pink Panther Slots. It's that infamous jazzy, musical movie theme song by Henry Mancini that we all remember about the Pink Panther. Now here's your chance to play Inspector Clouseau and crack the caper on this cool pink 5 reels 40 paylines video slots game from Playtech. That famous cartoon cat has his own slots machine and you get to cash in on all the free spins, multipliers, bonus games, Pink Pow feature, and two mystery progressive jackpots. All the characters you know so well are illustrated as icons on this game and they are ready to solve the mystery. Join the Pink Panther gang and all the things that make up a great show including Inspector Clouseau, Moustached Egg, Dynamite, Bucket with Paint, Panther's Traces, Magnifying glass, Cartoon Cat and Pink Panther symbol. Then there are also the typical symbols that include an Ace, King, Queen, Jack and a Ten. The Cartoon Cat is the wild symbol and the Pink Panther is the scatter symbol. This cat is really generous with the jackpots starting at $15,000, and $25,000, but if you want to own the real pink diamond go for the $250,000 for 5 Cartoon Cat symbols. Now you can enjoy all the fruits of your labor and play the many entertaining bonus games that'll bring you even more fun and prizes.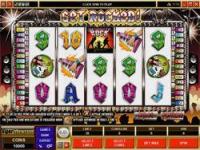 Crank it loud and play Get Rocked Slots. The show is ready to start and its' time for you to tune up and play this 5 reels 30 paylines rock and roll star themed video slots game from Microgaming. It's a rock and roll concert and you get to play the best part by collecting up all the features like free spins, multipliers, Solo Pick and Win, bonus games and jackpots. Soon as you plug this game in, the music plays and you'll hear the crowds go wild. Turn it up as all these colorfully illustrated symbols of rock stars and their instruments take the stage with a Singer, Guitar, Bass, Keyboard, Drummer, Stage, Ace, King, Queen, Jack, Ten and a Nine. The Singer is the wild symbol and the Stage is the scatter symbol. Play your best licks when you're in the Get Rocked Slots Bonus game as that's when you get to collect $37,500 in your dressing room for getting 5 Singers. Let the music begin and play all night long when you win big spinning up some great musical slots on Jazz Appreciation Month.