Penguin Awareness Day
It's chilly outside in the winter and its' Penguin Awareness Day in January, so let's warm up with some hot slots.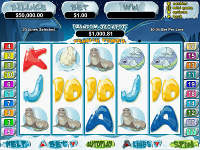 Those cute little Arctic animals are waiting for you to win playing Penguin Power Slots .
This happy go lucky Penguin and friends themed 5 reel 20 paylines video slots game from RTG will warm your heart and load your pockets with cash. You'll find this game to have really cool animated caricature illustrations of ice, snow and of course some funny little Penguins. Enjoy playing like an Eskimo at home with all his animal friends like a Penguin, and the cute Baby Penguin, Fish, Seal, Igloo, Egg, Ace, King, Queen, Jack, Ten, and a Nine. The Baby Penguin is the wild symbol and the Igloo is the scatter symbol. If you're lucky lots of multipliers will come sliding your way adding up to 3,10 or 200. Here you can win up $20,000 if you're betting the maximum $100. You can also win a kayak full of cash if you hit the jackpots starting at $10,000, $12,500 or a giant iceberg sized $25,000. Keep your eyes on the Igloos as three of them can get you into the Penguin Power Slot Bonus Game. Right away you can collect 5, 10, 15, or 25 free spins to get you started. Make sure you try and hit the Random Progressive Jackpot; then you'll be swimming in cash all the way to the bank. Remember to wear a tuxedo.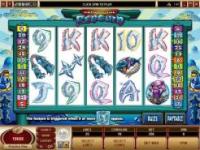 The innocent Penguins have turned into mighty ninjas on the Path of the Penguin Slots .
Good thing these tough little guys are on your side with this 5 reels 25 paylines video game from Microgaming. You're going to love this samurai and ninja Penguin themed slots game based in the South Pole. This game is loaded with jackpots, free spins, multipliers and a bonus game in this cold climate and fun game. A really creative approach to creatures living in Antarctica and giving them ninja personalities and caricature designs for the symbols. Get ready for karate action and play along to brilliant illustrations of a Penguin, Walrus, Fish, Nunchukas, Ninja Stars, Ice Cube, Ace, King, Queen, Jack, Ten, and a Nine. The Penguin is the wild symbol and the Ice Cube is the scatter symbol. You can chop up lots of cash winning the jackpots starting at $5,000, $10,000 and an amazing $30,000 for 5 Penguins. Once you get three or more Ice Cubes, you get into the bonus game. There you get to pick each three of the ice cubes that the Penguins will smash and reveal your prize. This bonus game is interestingly animated and you can win up to $90,000 for 5 Penguins when the prizes are tripled. Take a swing at this Penguin ninja warrior game and take advantage of all the free spins and generous jackpots.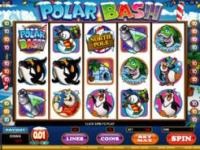 Get ready to party the way Penguins like to playing Polar Bash Slots from Microgaming.
You're going to be in a great mood the minute you start playing this 5 reels 20 paylines video game with a party atmosphere in the Arctic theme. These funny little cartoon characters will warm you're heart in any climate and they know how to have a really good time. This is the place to be this winter with all the free spins, jackpots and great bonus game. You're going to love partying along with all these cool and beautiful symbol illustrations of a Polar Bash, Polar Bear, a Penguin One and a Penguin Two, Walrus, Dog, Whale, Snowman, Igloo, Cocktail, Fish, and the North Pole. The bonus game is a real party favorite with these guys and you'll enjoy picking up multipliers, frees spins and a massive $120,000! Now that's a cool party with some cold hard cash waiting for you.
Now you have all the slots you need to celebrate Penguin Awareness Day in January.