Extraterrestrial Day
Humans might one day discover aliens way out there in outer space, but why not explore some great slots on Extraterrestrial Day now.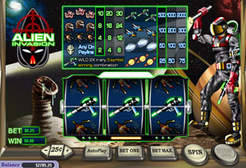 They might be on their way here now bringing lots of cash just like when you play Alien Invasion Slots . Prepare yourself for an extra special invasion of the slots kind when you play this space traveler themed 3 reels 1 payline video slots game from Vegas Technology. This is ground control to Major Tom, put your helmet on and step onto a planet full of free spins, wild multipliers, and some nice jackpots. This game has all the galactic graphics of a classic space movie like the vintage TV shows we all watched. Planet earth is blue and you're going to enjoy this money making journey through space with interesting illustrations of symbols that ET would love like an Alien, Raygun, Spaceship, Galaxy, Planet, Tentacle Alien, Sharp Tooth Alien, and an Insect Alien. The Raygun is the wild symbol and you can aim to win big as this symbol can substitute for other symbols and increase your winning combinations. You can also double your prizes with the wild symbol and collect a sparkling new $3,000 if you get 3 spaceships, and take a shot at winning $6,000 if you get 2 Spaceships with 1 Raygun. Once you've conquered those planets then head on over to some really galaxy sized jackpots starting with a lift off of $5,000 for 3 Rayguns with 1 coin, or head for the $10,000 with 2 coins, or go for the moon and collect up $20,000 for 3 Rayguns if you play 3 coins. You can take the alien's fast or quick, just plan your strategy with all the sections of coin sizes starting at 10 cents on up to $10. There's also a maximum bet of $30 if you really want to conquer this Alien Invasion.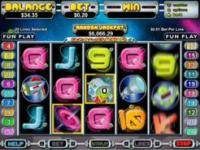 Blast off for a place where you can take in the fun and the cash when you play Outta This World Slots . Your space ship knows which way to go so play on this 5 reels 20 paylines space ship themed video slots game from Real Time Gaming. You'll be heading for orbit and visiting other galaxies where there's another world full of free spins, jackpots, multipliers, bonus games and a random progressive jackpot. This game has all the animation and space ship sounds any alien would love to play along too. You'll really enjoy taking a spin on your rocket and hanging around space for a while with colorfully animated symbols of an Alien, Black Hole, Earth, Flying Saucer, Raygun, Telescope, Ace, King, Queen, Jack, Ten, and a Nine. The Alien is the wild symbol and the Black Hole is the scatter symbol. The Black Hole has a lot of power and you can multiply your bet from 1,3, 25 and up to an unreal 500 times. Just get five of those scatters and you can win and unforgettable $50,000. You'll be floating in the most peculiar way when you hit those jackpots starting at $5,000 for 5 Rayguns or 5 Telescopes, or go for $12,500 for 5 Earths. If you really want to enjoy your trip to outer space then go for $37,500 for 5 Flying Saucers. Head on over to the Outta This World Slot Bonus Game at light speed and make some of your biggest discoveries and win galaxy sized $100,000.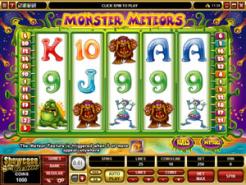 Just when thought it was time to come back to earth you must swing by the Monster Meteor Slots . These little creatures are just waiting for you to have a great time and win playing this 5 reels, 25 paylines video slots game from Microgaming. You'll find everything you need on this game beautifully illustrated with funny caricature illustrations of a Soldier, Blob, One Eye, Tentacles, Hairy, Meteor as well as Ace, King, Queen, Jack, Ten and a Nine. The Soldier is the wild symbol and the Meteor is the scatter symbol. The Monsters Meteor Slots bonus game is a reel hoot. You get to shoot the Soldier's Ray Gun at the aliens and collect your prizes. You just might fly away from these monsters with a prize of $15,000. Now it's time to leave the capsule if you dare and play all these great slots on Extraterrestrial Day.