Presidents Day
It's one of the most powerful positions in the world so you need to celebrate with some great slots on President's Day .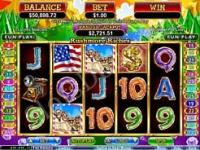 Play for the big money on Rushmore Riches Slots . This game is sure to get your vote on this Presidential 5 reels 25 paylines video slots game from Real Time Gaming. And, yes all US players are welcome to play this game and feel patriotic at the same time. It's all about Life, Liberty and the Freedom to do whatever you want and that includes taking advantage of all the great features this game has to offer like free spins, multipliers, jackpots, bonus games and a random progressive jackpot. This game is presented graphically in an outdoor mountain setting with a beautiful stream in the background so you can feel the outdoor atmosphere of being at Mt. Rushmore. Even the music in this game is very Presidential and will make you want to salute all the ex Presidents. To make things fun, Real Time Gaming has designed these caricature presidents to have some fun and style with cigars, sunglasses and bandanas. The symbol illustrations depict each famous President and they come wonderfully designed to include President Washington, President Jefferson, President Roosevelt, President Lincoln, Mount Rushmore, American Flag, Dollar Sign, Camera, Hammer, Rushmore Logo, Ace, King, Queen, Jack, a Ten, and a Nine. President Washington, President Jefferson, President Roosevelt and President Lincoln are the wild symbols while the Rushmore Logo is the scatter symbol. America is the land of opportunity so pick whatever coin you like and start playing with $0.01, $0.02, $0.03, $0.04, $0.05, $0.06, $0.07, $0.08, $0.09, $0.1, $0.25, $0.5, $1, $2.5, and $5.00 with a maximum bet of $125. Then climb on over to the jackpots and win $5,000, $6,250 or even $25,000 for 5 Mount Rushmore. But if you want to reach the peak of this game, make sure you play the Rushmore Riches Slots Bonus game where you can win an amazing $125,000 for 5 Mount Rushmore icons or win the random progressive jackpot.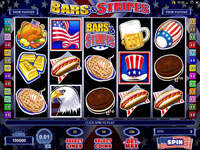 Enjoy everything American playing Bars N Stripes Slots . Here's your chance to enjoy the 4th of July celebrations in this extremely patriot 5 reels 25 paylines video slots game from Microgaming. You'll be seeing fireworks when you take a look at all the great features like free spins, multipliers, jackpots and bonus game. This game is just bursting with colors, mainly the traditional red, white and blue so much associated with the USA. July will be coming soon, but if you just can't wait, then sink your teeth into these brilliantly illustrated symbols all depicting famous iconic food items you will find at any Fourth of July party including Apple Pie, Bars and Stripes, Beer, Burger and Fries, Eagle, Flag, Gold Bar, Hotdog, Liberty, Oreo, Seven, Turkey, Football, and a Hat. The Bars and Stripes is the wild symbol and the Football is the scatter symbol. You'll want to throw that Football around in this game as it can score you a nice $50,000 if you're playing the maximum bet of $250. There are also some nice jackpots to feast on starting at $6,000 for 5 Eagles or $10,000 for 4 Bars and Stripes. If you want to have the best Fourth of July in your life, then go for the $50,000 for 5 Bars and Stripes. The party really picks up when you make your way to the Bars N Stripes Slots Bonus game. Here is where the Hat symbols come in handy and you can thank Uncle Sam when you pull $475,000 out of these Hats.
Get the latest on TV with Lucky News Network Slots . Presidents are always in the news and you will be too when you win big playing this 5 reels 20 paylines video slots game from Microgaming. All the TV News personalities sure know how to bring you the best news in town in a lively upbeat manner so you can start your day off right and put some cash in your pockets. No need to watch your TV when you can get all the money making news at this game in full color too. Just turn on this game in tune into these colorful caricature news cast symbol illustrations ready to deliver the fun and good times with a Lucky News Network Logo, Male Newscaster, Female Newscaster, Weather Man, Traffic Man, Movies Woman, Sports Man, Money Man, Health Woman, Camera Man, Broadcasting Van, and Bonus Bulletin. The Lucky News Network Logo is the wild symbol and The Bonus Bulletin is the scatter symbol. Turn on this game and turn on the jackpots as they are the feature stories starting at $3,000 for 5 Female Newscaster or grab the headlines with $5,000 for 5 Male Newscaster. You can own part of the Network if you win $10,000 for 5 Lucky News Network Logos. Now you're really ready to make some noise on the airways when you announce your arrival at the Lucky News Network Slots bonus game. Here's where you can play the Bonus Bulletin Feature and play "Pick a Symbol" and collect 20 Free Spins with 5x multipliers. Then you can make the local news and be a star when you win $50,000. Stand up and salute your President and celebrate with playing some great slots on President's Day.