National Bird Day
Fly away with lots of cash with playing some great slots as we celebrate National Bird Day this month.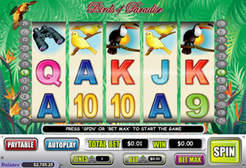 You'll be chirping a happy tune when you play Birds of Paradise Slots from Vegas Technology. US players are welcome to sing along on this 5 reels 25 paylines video slots game set in a wonderful tropical forest where you'll find some of the most beautiful birds in the world. You're going to be a bird lover after all when you enjoy the tranquility of this game and all the features. Take in the beauty and bird songs in this game and all the features will be music to your ears. This game has a nest full of free spins, multipliers, jackpots and a bonus game. Absolutely full of color, this game takes you to the rain forest where all the exotic birds live. All colorfully illustrated to perfection, the symbol illustrations are exquisitely done and you get to watch all the birds sing and spin including an Orange Bird, Nest, Binoculars, Yellow Birds, a Toucan, Plant, Ace, King, Queen, Jack, Ten, and a Nine. The Orange Bird is the wild symbol and the Nest is the scatter symbol. You'll want to put on the binoculars and look at the selection of jackpots starting at $5,000, $10,000 and $50,000 for five Orange Birds. Make sure you settle into this game and get comfy with the free spins as you can win an amazing $100,000 if you get 5 Orange Birds during the free spin round.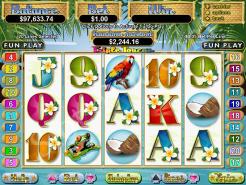 Feel the warm of a tropical paradise this winter when you play Triple Toucan Slots from RTG. Get ready to play along to Caribbean music and win in a tropical vacation themed 5 reel 20 payline video slots game. The pretty birds will take you away to a place people only dream of. Just like Costa Rica, Hawaii or the Caribbean this is your chance to win lots of money and make those vacation dreams come true. This game is full of free spins, multipliers, and a lovely random progressive jackpot that just keeps getting bigger just like your dreams. The illustrations on this game are brilliant and full of color, which each tropical bird painted to perfection. Enjoy each bird in their natural settings as they are accompanied with other tropical items including beautiful symbols of a Toucan, Frog, Coco, Red Macaw, Flower, Tropical Fruits, Ace, King, Queen, Jack, Ten, and a Nine. The Toucan is the wild symbol and the Tropical fruit is the scatter symbol. Prepare to back your bags for the tropics when you win one of the jackpots starting at $7,500 for 4 flowers, 1 Toucan and 1 Coconut, or win $15,000 for 5 Red Macaws, 4 Frogs, and 1 Toucan. Go for an extended vacation and win the $45,000 jackpot by getting 4 Red Macaws and 1 Toucan. But if you want to head to the tropics for a permanent vacation and have all these birds in your backyard, just hit that random progressive jackpot.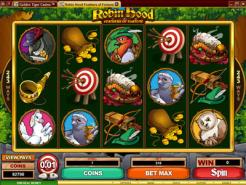 Robin Hood Feathers Slots is ready to bring you the cash in this light-hearted tale of the birds as the merry men. Just like the fairy tale of Robin Hood you'll enjoy this bird themed video slots game from Microgaming that gives you 243 ways to win on the 5 reels slots games. This game is all about outstanding graphics, brilliant illustrations and so much color you'll become happy and merry playing along to this visually stunning game. You will spin along to the symbols of a Robin Hood Logo, Wanted Poster, Robin Hood, Little John, Maid Marian and the Sheriff of Nottingham, Arrows, Gold, Horn, Meal, and a Shooting Mark. The Robin Hood Logo is the wild symbol and there are two scatters, the Robin Hood and the Wanted Poster. You have to play the bonus game as you get to play an archery game and shoot to win lots of cash prizes. Become the hero today and fly away with enough loot fit for a King of Sherwood Forest. Now you have all the great slots games you need to enjoy and win on National Bird Day.