Mother Earth Day
She has been around for 4.54 billion years so let's celebrate with some global slots on Mother Earth Day .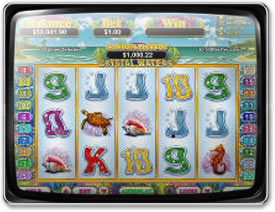 Mother Earth brings you Crystal Waters Slots . Dip your coins into this beautiful and warm ocean themed 5 reels 20 paylines video slots game from Real Time Gaming. Sit back and relax while you enjoy the tranquility of a tropical ocean atmosphere with more features than fish. Swim around this game and play with all the free spins, multipliers, jackpots and a random progressive jackpot. Just like the tropics this game is absolutely bursting with bright and happy colors so you can feel the warm tropical breeze when you take a spin with a Dolphin, Seahorse, Bonus Fish, Yachts, Tropical Fishes, Sea Turtle, Cockleshell, Ace, King, Queen, Jack, and a Ten. The Dolphin is the wild symbol and the Yacht is the scatter symbol. Put on your snorkel and mask and you will see clearly all the multipliers coming your way in the Crystal Waters Slots Bonus game. Just get three or more Yacht symbols on the reels and you're in the bonus game. Keep your eyes on the Dolphin symbol as it can multiply your bets by 4, 8 or 16 times and you can win the $320,000 jackpot. Once you've done that you'll be ready to swim on over to the random progressive jackpot and rule the ocean waters.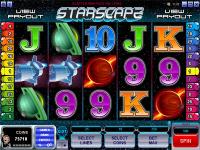 Search the entire galaxy at Starscape Slots . You'll want to land your spacecraft on this 5 reels 25 paylines planetary space journey themed video slots game from Microgaming. Then get ready for a space traveling experience that will take you to another galaxy filled with free spins, multipliers, jackpots and bonus games. The galactic sounds effects and music really give this game that space-age feel. Space travel sure has it benefits and you get to watch these brilliantly illustrated planets and graphics. You can make these symbols really take off with a Starscape Logo, Spacecraft, Sun, Green Saturn, Red Planet, Comet, Moon, Ace, King, Queen, Jack, a Ten and a Nine. The Starscape Logo is the wild symbol and the Spacecraft is the scatter symbol. Just like all the stars in the universe you have lots of coin sizes to choose from starting at $0.01, $0.02, $0.05, $0.1, $0.2, $0.25, $0.5, $1.00, with a maximum bet of $250. Now you can jet on over to the jackpots and fill your rocket ship full of cash starting at $5,000 for 5 Green Saturn, then go even further into the galaxy and win $10,000 for 4 Starscape Logos or for 5 Suns. But if you want to be captain of the universe go for $70,000 for 5 Starscape Logos. Prepare to set your flight plan for the Starscape Slots Bonus game. Here is where you get to play some really fun interactive games so you can win even more prizes. Just get three or more Spacecraft scatter symbol on the reels and prepare to land. Load up on the multipliers and you can win an amazing 37,500 coins so you can continue your galactic adventure into outer space.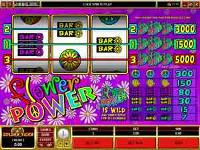 Peace, love and Flower Power Slots . Far out man! Get ready to have a really groovy time with a colorful and classic 3 reels 3 paylines video slots game from Microgaming. Bring out the hippie in you and save the Earth with peace and love. Spread the love around with so many cool illustrations, guitar music and wildly colorful symbols including a Hippie Symbol, Orange Camomile, Triple Bar, Double Bar, Single Bar and the Flower Power symbol. The Flower Power is the wild symbol and can also substitute for all the other symbols. This game will really bring out the hippie in you when you win the jackpots starting at $7,500, $15,000 or a cool $25,000. The Flower Power icon can bring you lots of prizes so make sure you're feeling groovy and wearing your tie-die shirts, just like a hippie and you'll be feeling the love from this slots machine when the jackpots' hit. We all live on this beautiful planet so enjoy life and play some great themed video slots and celebrate Mother Earth Day.