National Beer Day
You're going to have a great time drinking up all the fun and winning cash when you play these great slots on National Beer Day .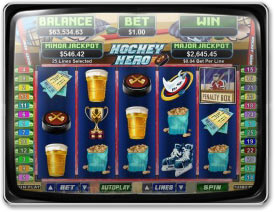 Take a shot at Hockey Hero Slots . The hockey playoffs are on and you get to shoot for cash on this 5 reels 25 paylines video slots game from Real Time Gaming. This game has a hockey rink full of Free Spins, Win-Win Feature, wild multipliers and a random progressive jackpot. Put your best spins on the ice and get ready for a power play with these great symbol illustrations and designs depicting everything hockey including a Player, Goaltender, Referee, Clock, Trophy, Goalie Mask, Skates, Ticket, Beer, Peanuts, Penalty Box, Rhino Logo and a Puck. The Player is the wild symbol and the Penalty Box is the scatter symbol. Make your game plan to put some pucks in the net and fill your trophies with jackpots starting at $25,000, $50,000 and an amazing $100,000 for 4 Rhino logos and 1 Player. Go for the Stanley Cup playoffs and win the biggest prize of them all, the random progressive jackpot.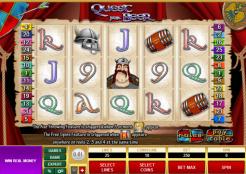 Join the Vikings' journey for suds on Quest for Beer Slots . Here they come from a far; the Vikings are on their way so you can play this 5 reels 25 paylines video slots game from Microgaming. The good thing is that these guys and girls sure know how to have a good time. You're going to get along really well with all of them, and they sure bring lots to the party including free spins, wild multipliers, jackpots, bonus game and a gamble feature. Soon you'll be sipping the suds and having fun with all these characters. All dressed up in color, these Vikings will entertain you and give you lots of prizes. The icons are illustrated with joyful designs and cartoon styles so everything comes served nice and cold with a Beer Tankard, Beer Wench, Chief, Boat, Barrel, Helmet, Ace, King, Queen, Jack, Ten and a Nine. The Beer Tankard is the wild symbol and The Beer Wench is the scatter symbol. Go ahead and charge for the jackpots and become leader of the Vikings starting at $2,500 for 4 Chiefs, or win $5,000 for 5 Boats, then buy all the beer you want when you win $12,500 for 5 Chiefs. Conquer the wild symbol and you can lead the charge to win big when your bets are multiplied and the $25,000 is yours for 4 Chiefs and one Beer Tankard. Now you can drink beer and sail on over to the Quest for Beer Slots Bonus game. Here is where you get to have some fun "Viking style" playing interactive games and winning even more prizes. Show off your gaming skills starting with the Axe Throwing feature where you get 3 Axes to throw into 5 Kegs and fill up the beer tankards. Then collect your cash prizes before you finish off with the Gamble feature.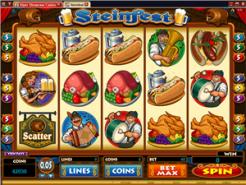 Let's go to Germany and play Steinfest Slots . The Germans sure know how to make and enjoy beer and food, so will you on this 5 reels 9 paylines Oktoberfest themed video slots game from Microgaming. Time for you to have some fun and really enjoy the best things that Bavaria has to offer when they put on a festival. We hope you're hungry for beer and food as this game has that and a plate full of features to keep the party going including free spins, multipliers, jackpots and bonus games. This game will make you feel like you're in a comfy Bavarian pub with lots of warm and friendly characters ready to serve you cash. Come on and enjoy the bright and happy illustrations, designed to put you in a good mood. You will celebrate with everything Oktoberfest like a Tavern, a Beer Chug, Steinfest Logo, Blonde, Brunette, Drummer, Accordionist, Trumpeter, Sausage, Hot Dog, Chicken, Meat, and a Pretzel. The Steinfest Logo is the wild symbol and the Tavern and the Beer Chug are the two scatter symbols. Get ready to party and dance all night long with these friendly Bavarian characters and you just might fill up your beer mugs with jackpots starting at $1,500, $2,500 and $5,000. The nights not over yet until you play the bonus game where you get to pick the patron and win the prizes. Fill up more than your beer mug with lots of cash when you celebrate National Beer Day.