Seward's Day (Alaska, USA)
The US purchased Alaska in 1867 from Russia, so let's celebrate with some great slots on Seaward's Day in Alaska.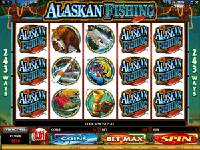 Catch some big cash with Alaskan Fishing Slots. Let's go fishing and toss your line into this 5 reels with 243 ways to win video slots game that will have you filling up your nets with cash prizes. Alaska is known for great fishing and you'll love playing along to the outdoorsy music and sounds this game has when the reels are spinning. It's been a long winter and if you hunger for some good outdoor fun then fill up your picnic basket with all the features like free spins, multipliers, Fly Fishing Bonus game and jackpots. Enjoy the great outdoors, breath the fresh air and marvel at the spectacular mountain settings in this game. All the animated symbol illustrations are picturesque and brilliantly painted so you can feel the mountain atmosphere while fishing with Fisherman, Lure, Alaskan Fishing Logo, Trophy, Bear, Eagle, Plane, Catamaran, Salmon, Engine, Fish Hook, and Multi-colored Fish. The Alaskan Fishing Logo is the wild symbol and the Lure is the scatter symbol. The fish are a jumping and soon you will be to when you see how the Lure scatter symbol can multiply your bets by 5, 10 or 100 times. You can win up to $1,500 if you're betting the maximum $15. Grab all you're fishing gear as the fish are biting at the Alaskan Fishing Slots Bonus game and you're going to play some cool interactive fishing games. Just catch three or more Lure symbols on the reels and you get 15 free spins where the prizes are doubled and can win $500 for 5 Alaskan Fishing Logos. Now you're ready for the big catch. You can do that when you get the Fisherman symbol on reels 1 and 5. Then you get to pick 5 spots where the fisherman will toss his line in the river and you collect the 2x and 15x multipliers. And with 243 winning combinations in this game, the river will be full of prizes to catch.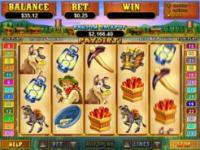 Alaska has gold at Pay Dirt Slots. Way up there in the Alaska there's tons of gold in them hills on this 5 reels 25 paylines video slots game from Real Time Gaming. It's a "Gold Rush" slot style, so grab your pick and shovel and get read to spin up lots of cash. There are mines full of features so you can keep playing with free spins, multipliers, jackpots and a random progressive jackpot. Now you just need some tools and your adventure begins. You can get everything you need and more with these colorful cartoon caricature gold mining symbol illustrations. These symbols represent and depict the traditional icons of the Yukon gold rush including a Bandit, Gold-Seeker, Dog, Donkey, Pay Dirt Sign, Gold Nugget, Gold Mine, Gold Pan, Lantern, Dynamite, Pick, and a Mining Truck. The Gold Nugget is the wild symbol and the Pay Dirt Sign is the scatter symbol. Once you got everything you need head right for the jackpot gold mines. There's where you'll fill your trucks with lots of money starting at $15,000 if you get 4 Bandits and 1 Gold Nugget or stake your claim and get $37,500 for 4 Gold-Seekers with 1 Gold Nugget. But if you want to own the mine go for the huge $150,000 for 4 Gold Mines and 1 Gold Nugget. Now it's time to load up the horses and head on over to the Pay Dirt Slots Bonus game where you get to play the Gold Rush feature and win 12 free spins. Keep going and play the Gold Fever feature and then really find lots of gold on the Strike it Lucky Game where you can collect another 10 free spins.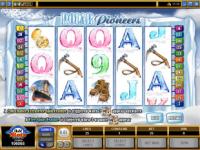 Join the adventure and play Polar Pioneers Slots. Just like the famous Great Sled Race you'll enjoy the journey to an Arctic location on this 5 reels 25 paylines video slots game from Microgaming. The orchestra music really drives this game with all the sound effects of being in the polar region. Load up the sleigh with lots of features including free spins, multipliers, jackpots, bonus games and gamble feature. The cool blue designs and icy symbol illustrations are full of color and will take you for a ride with an Explorer, Ship, Huskies, Ice Boots, Compass, Ice Axe, Ace, King, Queen, Jack, Ten and a Nine. The Explorer is the wild symbol and The Huskies is the scatter symbol. The race for cash picks up speed when you arrive at the jackpots starting at $4,000 for 4 Explorers for take the lead with $5,000 for 5 Ships. Then get ready to cross the finish line with $30,000 for 5 Explorers. When you're ready to take home the grand prize get on over to the Polar Pioneers Slots Bonus game and win $60,000. Let's celebrate the purchase of Alaska with some great slots on Seaward's Day in Alaska.