Coffee Gourmet Month (International)
Wake up its' International Coffee Gourmet Month in January and we've got some great slots to pick you up.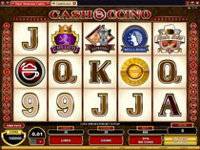 Heat up the pot and smell the money when you're playing CashOcinno Slots by Microgaming. Just like how the Italians' love their Espresso, you'll really enjoy this 5 reels 30 paylines coffee infused video slots game. What a better way than to sit down with a nice cup of java and load up your coffee can with some cash. You'll get lots of energy when you see all the jackpots additional free spins and features like the Extra Bet button are real treats. Visually this game is really soothing to look at with rich coffee colors and deliciously illustrated symbols like a Café Latte, Mocha Swiss, Espresso, Americano or Bella Roma, the CashOcinno Logo, Scatter, Ace, King, Queen, Jack, Ten and the Nine. Depending on how strong you like your betting, you have lots of options 0.01, $0.02, $0.05 and the highest bet is $30. Now that you're awake keep your eyes on the CashOcinno Logo as that is the Wild symbol and the Scatter is the Scatter symbol. There are a lot of chances for free spins if you get three or more Scatter symbols you can start collecting 15 free spins. At this point the prizes are tripled and you can win up to $30,000 just for getting 5 CashOcinno Logos. Take advantage of the Extra Bet feature where you can win 30 free spins if you get three or more scatter symbols.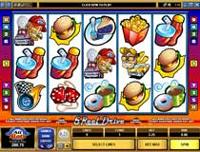 Load up on the coffee, donuts and cash playing 5 Reel Drive Slots Slots by Microgaming. Get your motor running, head out on the highway. Take a spin and hit the road winning on the 5 Reel Drive, a 5 reels 9 paylines road trip themed slots machine. A real pleasure to drive and you'll want to take your time and cruise around in this really well designed and fun game. It's filled with lots of features to keep your slots journey interesting. The illustrations on the site are colorful, animated and are excellent cartoon caricatures of everything you'll need to take and see on the winning highway; like a Cheese Burger, Blueberry Pie, Fries, Soda, Coffee and Doughnuts as well as a Big Red Truck, Flaming Wheel and don't forget to look out for the Police Car. The Winding Road Sign is the wild symbol and the Police car is the scatter symbol. Let the good time roll when you hit one of three jackpots on your ride starting at $1,800 for 5 Yellow Hotrods, $2,000 for 5 Big Trucks and a cool $20,000 for 5 flaming Wheels on a $2 bet. There are some nice coin varieties to play with starting at 25 cents on up to $2 and the maximum bet is $18. Start looking for adventure and you just might win big!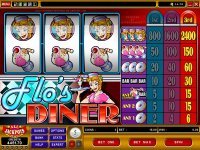 Time to pull into Flo's Diner where your good luck is brewing for a big win. Just like your favorite hang out, but at Flo's Diner they serve up lots of ways for you to win money. Have a seat at your favorite table and play this classic 3 reel, 1 payline video game from Microgaming. The game is bright and happy, filled with lots of color and symbols that'll make you smile like Flo, or hungry for Ice Cream, and a Donut. There is also a bar symbol to keep the game traditional. There are also some nice giant plate sized jackpots for you to enjoy and win on this menu, including a starter at $4,000, second serving of $5,000 and a huge $30,000 serving for 3 Flo's, when you're playing with 3 coins. So enjoy a cup of java, play some of these great slots and enjoy International Gourmet Coffee Month this January.