Financial Wellness Month
January is the start of a brand new year and it's time to win some cash playing slots for Financial Wellness Month .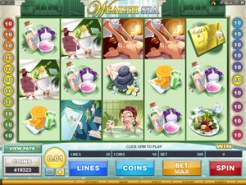 You could enjoy some pampering, so head on over to the luxury resort and play Wealth Spa Slots from Microgaming. Before you think about all the money you'll win this year, start by relaxing and enjoying a good day playing this well deserved 5 reels 20 paylines video game. This game is all about soothing pleasures with an atmosphere of opulence and all the comforts of a world-class spa. The intro movie to this spa sets the peaceful tone with cool music and a presentation of what to expect when you take a spin at this spa. Soon as you start playing you'll love the great illustrations, soft colors and wonderfully designed symbols of everything you will find in a spa; like a Wealth Spa Logo, Bath, Massage, Sauna, Pool, Reception, Robe and Slippers, Essential Oils, Hot Stones, Dinner, Breakfast, Gold Member Card, and a Token. The Wealth Spa Logo is the wild symbol and the Gold Member Card is the scatter symbol. This slot machine is all about the many bonus rounds where you'll find the Smoothie Bonus, Hot Stone Bonus, Body Wax Bonus, Bath Oil Bonus and the Massage Bonus. Each game requires a selected number of tokens for you to get into and enter each game. They all have a unique interactive gambling activity game to play like choosing stones, picking fruit and more. You'll also find some nice jackpots, up to $5,000 is waiting for you to win in the spa.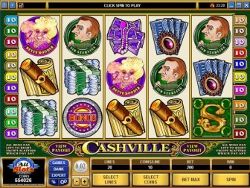 Let's go visit a place where the financially wealthy like to live and that's playing Cashville Slots . Join the "Well To Do" and build up your wealth on this 5 reel 20 payline video slots game from Microgaming. Spend some time and make some money with the billionaires who also like to enjoy the finer things in life. You could be spending your days talking about expensive vacations, jewelry, investments and how much you're worth, just like them. This game is exceptionally illustrated with beautiful and classy designs of rich cartoon caricatures, indulging in things you would expect to find in a place like Cashville. Enjoy symbols like a Wild, Bonus, Bill Bullion, Dame Von Deeds, Sir Sterling, Bette Boodle, Dollars and Cigar, Dollars and Broach, Dollars and Coins, Dollars and Pearls. The letter "W" is the wild symbol and the letter "S" is the scatter symbol. There are lots of betting options for you as they vary from 1 cent on up 20 cents and the maximum bet is $40. There are four jackpots and all have the same $2,000 amounts for getting 5 characters on the reels. You'll have to check out the bonus game and all you need to do is get 3 Bonus symbols and win the billionaire bonus game. Then it's your choice on selecting the best money investments for the billionaire characters in the game. You can select Bill's Oil Rigs, the Dame's Deeds, the Sir's bank vaults or Bette's paintings. Then get ready to win 45,000 coins. Next thing you know you're living in Cashville with the billionaires.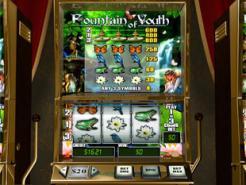 When you're rich you can afford to stay young, so live a long life playing Fountain of Youth slots . Enjoy tranquility in this "Garden of Eden" themed slots game where you can live in harmony and financial wellness; in a natural paradise setting playing this classic 3 reels, 3 paylines slots machine from Playtech. This game has some wonderfully artistic nature images you'll find soothing to play too. There's also some creatures living in this heavenly place and these symbols are a beautifully painted Butterfly, Blue Bird, Frog, Water Lily and the Fountain of youth. You'll feel young again when you win one of the jackpots starting at $8,000, $12,000 and a fresh $16,000. So start playing all these great wealthy living slots and get rich for Financial Wellness Month in January.