National Anthem Day
You'll be singing your favorite patriotic songs aloud when you win big playing these great slots on National Anthem Day. It's time for Red, White and Win Slots
It's time for Red, White and Win Slots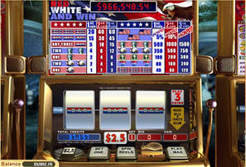 The Star Spangled Banner is the official anthem of the USA and you get to sing it loud when you play this classic 3 reels 1 payline video slots game from WSTechnology. Red, White and Win Slots is all about being an American patriot with all the red, white and blue colors all painted to perfection and you can enjoy the slots machines fireworks show. The best feature on this game is the jackpots and the random progressive jackpot. Spin up some life, liberty and pursuit your own happiness when you play along with these beautifully illustrated symbols of a USA Flag, Bald Eagle, Washington, Seven, Single BAR, Double BAR, Triple BAR, Dollars, and a Statue of Liberty. You'll enjoy the land of the free when you hit these jackpots starting at $1,875, $2,500 and $3,750 for getting 3 Statues of Liberty if you bet 3 coins per line. Then it will be time for the home of the brave when you go for and win the random progressive jackpot and live on in the home of the free.
You're on your way to Victory Slots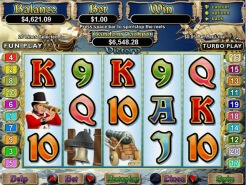 Prepare for battle and then victory so you can start a new world on this 5 reels 20 paylines nautical, vintage sea battle themed video slots game from Real Time Gaming. You are the Master and the Commander at sea and you will lead your ship to victory. Set sail for battle and load up your ship with all the ammo and features you'll need like lots of free Spins, multipliers, jackpots and a random progressive jackpot. You'll feel great arriving in a patriot mood when you see all the brilliant colors, designs and vivid illustrations of an authentic British war ship and the crew. Set your ambitions to full sail and head into the battle of adventure with everything you need including such symbols as a Ship, Captain, Bell, Cannon, UK Flag, and a Man with Telescope, Ace, King, Queen, Jack, a Ten and a Nine. The Ship is the wild symbol and the UK Flag is the scatter symbol. You'll want to load up your cannons with lots of coin sizes for battle starting at $0.01, $0.02, $0.05, $0.1, $0.25, $0.5, $1, and $5.00 with a maximum bet of $100. Once you secure your enemies ship, send your men aboard to find the jackpots starting at $10,000 for 5 Bells or for 5 Cannons, or head below ship and find the $25,000 for 5 Men with Telescopes. If you want the captain's treasure make sure you find the secret chest with $50,000 for 5 Captains. Now it's time to gather your men and set sail for the Victory Slots Bonus Game. Here's where you will rule the ocean when you win tons of free spins, multipliers and $100,000!
Let the show begin with Fat Lady Sings Slots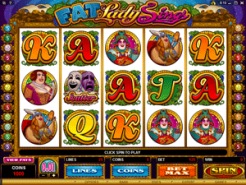 It's time to draw the curtains and sing like the queen when you play this entertaining and interactive 5 reels 25 paylines opera themed video slots game from Microgaming. Whatever music or national anthem you prefer, you'll find the singers you need here to make the show a success. The singers on this slots game come equipped with all the talent and great features you need to make your luck sing with lot of free Spins, an expanding wild, multipliers, jackpots and a gamble feature. You'll also enjoy the complete concert of beautiful sounds, music, and colors that will fill up any room of yours with joy and happiness. All the graphics, illustrations and designs on this game really take you away to a concert hall in the mountains with such gorgeous symbols as Fat Lady Sings Logo, Masks, Viking Lady, Asian Lady, Lady, Ace, King, Queen and a Jack. The Fat Lady Sings Logo is the wild symbol and The Masks is the wild symbol. If you want to take it easy and start with a dress rehearsal, then warm up with the wide variety of coin sizes starting at $0.01, $0.02, $0.05, $0.1, $0.2, and $0.25 with a maximum bet of $31.25. Start the show of right with winning some nice jackpots at $1,250, $1,875 and $3,750 for 5 Fat Lady Sings Logos. You'll be ready for the second act when you head on over to the Fat Lady Sings Slots Bonus game. Here is where the slots game gets fun and interactive when you play "Pick a Pitch". This brings the show to a crescendo when you pick the notes you want each singer to hit and break the glasses or vases with their extreme pitch and volume signing abilities, and collect the prizes. Then for the final act you'll get to win the $18,750 for getting 5 Fat Lady Sings Logos. Start this summer off on the right note and win some vacation cash when you play these great slots on National Anthem Day.