Maritime Day (US National)
Set your winning compass for National Maritime day and let's make some waves of cash inside the deep blue sea. Before the automobile, planes and trains there was the boat that enabled mankind to explore new lands and find riches beyond belief. We're celebrating National Maritime day to pay our respects to all the men and women who have spent time on the high seas so we can now spend time at home searching and finding our own cash treasures on some of the best seaworthy slots online. Since National Maritime Day is a US day of observation in recognition of the progress of boating technology, we've selected some great maritime themed slots all US players can float around with and sail to riches on.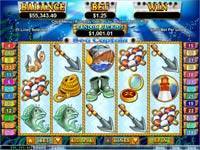 Sea Captain Slots puts you in the captain's chair so you can make the orders to win big aboard this fabulous slots machine by Real Time Gaming. Head out to the deep sea so you can gain some deep pockets with this great 5 reel, 25 payline video game that will keep you fishing for more fun and cash. This game is definitely fishnets full of fun and will keep reeling in lots of free spins, progressive jackpots and multipliers. You'll find this game to have some wonderful illustrations with tons of vibrant colors and interesting icon designs of a Captain, Squid, Fishing Vessel, Beacon, Crab, Fish, Rope, Compass, Boots, Harpoon, Hook, and a Lifebuoy. The squid is the wild symbol and the Captain is the scatter symbol. If you're looking for that big life changing catch of cash, well in this game if you're lucky you can win a massive 30,000 coins or $150,000!! Just make sure to keep you sea worthy eyes on the captain symbol as he will make sure he leads you to lots of fun and cash on Sea Captain Slots.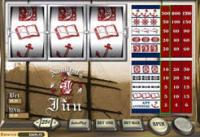 After a long voyage at sea it's nice to set your anchor, dock your boat and check into the Admirals Inn slots where it's time to rest and take in some spins on this classic slots machine from Vegas Technology. Just what you like, a classic slots game with a vintage sailing ship theme and the cozy atmosphere of a fisherman's pub. Step inside this traditional maritime themed game and find simplistic illustrated icons of an anchor, ships helm, shark, compass, moon, hourglass, 2-bar, 1-bar, and the journal icon. The anchor icon serves as the Admiral's Inn scatter symbol and when you get three anchors you can win 1,500 coins. You can also win 150 coins with three ship's helm if it appears three times in a single spin. If you're just in the mood to sit by the fire and put your feet up, then you can just use the auto play feature, which allows players to relax and unwind while betting on the game. Perfect for a captain who's spending some quiet time winning at the Admirals Inn slots.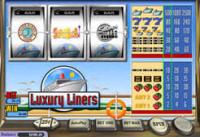 All hands on deck, now it's time to really enjoy sailing into success aboard the Luxury Liners slots machine. The maritime history sure has come along way since the invention of the boat. Now there's Luxury Liners for the people just like you who want to enjoy the finer things in life. You're going to enjoy your time aboard this classic three reel, one payline slots game with 10 winning combinations that will spoil you with Luxury Liners full of cash. You can float and spin around with illustrations of yachts, 7's and cherries to keep you entertained. If you get three luxury liners on the reels you can win a generous 2,500 coins and 1,000 coins for the second jackpot. We salute all the men and women who sail the high seas and enjoy Maritime Day playing these great sea worthy slots, where you're sure to discover your own treasures aboard these nautical themed slots games.